Welcome to the
BOILER BASICS
Chapter 1: Rural Heating 101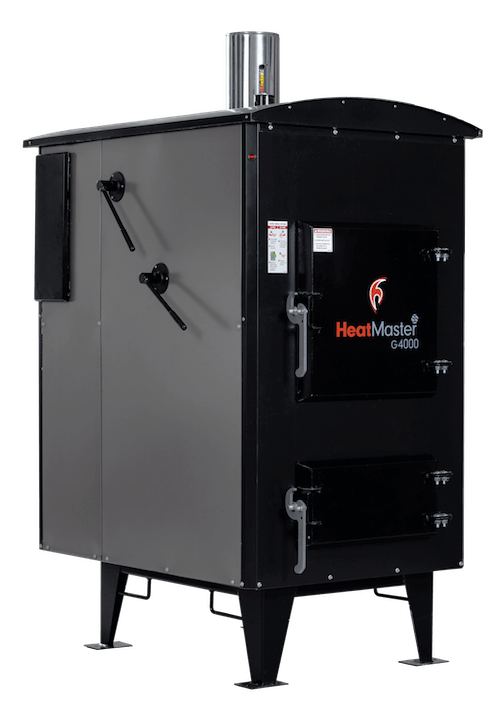 The Definitive Guide to Heating a Country Home
Compare the pros and cons of all the most popular heating options:
Home Heating Oil
Natural Gas
Propane
Electricity
Indoor Wood Stove
Outdoor Wood Furnace
Heat Pump
Geothermal
Click the button below to read the guide in your browser:
Is a Boiler Right For Me?
An Outdoor Wood Furnace could be your heating solution if…
You live out in the country

You have access to wood

You have the tools to split your wood
You have the patience to season your wood
What is the Big Deal About Wood Boilers?
If you source your wood locally, you have a cost-effective heating fuel. The best part is you maintain your independence from fuel companies and fluctuating prices.
Not to mention a warm home, shop, and garage, as well as unlimited hot showers.
How Much Money Will I Save?
Every building and region is different, but on average, it's estimated a home in the Northern U.S and Canada needs 100 million BTUs each winter.
So if you're paying $2.50/gallon for propane, you can expect a total heating bill of $2,881 each winter.
If you have the time and expertise to collect and season your own wood to feed your outdoor furnace, it's easy to see how those costs could become annual savings.
Why Are People Upgrading to Outdoor Boilers?
We asked customers why they were switching and here's what they said:
"Looking for a cheaper heating system in the long run. Propane is too expensive."
"Received my hydro bill… yikes. Always liked the idea of having more control over my heating."
"Gonna take our wood stove out and I want an outdoor boiler to cut down on dirt, smoke etc. in the house. Also gonna build a garage and heat it too."
"We are currently building a house and planning the heat source."
How Does an Outdoor Boiler Connect To My Home?
A boiler can connect to almost any existing home heating system, or power an overhead forced air heating unit or an in-floor heating system.
Read more here or watch the animation below to see how a boiler connects to a home's forced air heating system:
WATCH THE ANIMATION BELOW TO SEE HOW AN OUTDOOR FURNACE HEATS YOUR HOME:
AN OUTDOOR FURNACE PROVIDES HEAT FOR A WIDE RANGE OF APPLICATIONS

DID YOU KNOW? In most cases your outdoor furnace can connect to your existing home heating system. You save money with wood heat while your existing system provides peace of mind as a backup heat source.
Chapter 2: Which Furnace Is Right For Me? Gasification vs. Conventional
The process of gasification supercharges your efficiency, superheating your wood to unlock the trapped gases inside. While gasification seems like the obvious choice, the high-tech appliance costs more than a conventional boiler and requires properly seasoned wood.
While not as efficient, a conventional outdoor wood furnace is more forgiving when it comes to fuel quality. However, improperly seasoned wood still means more heat wasted boiling off moisture in your fuel.
DID YOU KNOW? For every 1 percent increase in moisture level in your wood, you'll see a 1 percent decrease in efficiency.
For a deep dive into gasification, check out our 4 Levels of Gasification series on YouTube
Chapter 3: Sizing Your Furnace
To choose the perfect size of furnace, you'll need to know how many BTUs your buildings require.
For an in-depth look at a technical heat-loss calculation, click here.
For a helpful ballpark calculation, first, think about your insulation level:
Excellent: 18
Good: 20
OK: 23
Poor: 25
Now, multiply your insulation level by your total sq. ft.* to find your BTU/hr
*For a basement, multiply your main floor square footage by 1.5, so a home with a 1,800 sq. ft. footprint and basement would be 2,700 sq. ft.
If your 2,700 sq. ft. home is rated with an OK insulation level, the math would look like 23 x 2,700 = 62,100 BTUs/hour.
In this case, a G4000 furnace with an 8-hour burn rate of 68,025 BTU/hour would be an ideal size.
SEE WHAT THE NEXT GENERATION OF WOOD GASIFICATION FURNACES CAN DO.
DOWNLOAD THE G SERIES BROCHURE HERE
Chapter 4: The HeatMasterss Advantage
DON'T SPEND
ANOTHER WINTER
PAYING HIGH
FUEL PRICES